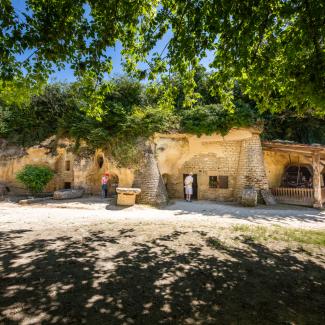 Visit troglodytes in Anjou Loire Valley
Suivez le guide
©D. Darrault , Rochemenier
With wine-cellars, art galleries and cosy tourist accommodation, cave-dwelling in Anjou Loire Valley is not just history! From tufa limestone quarry to purpose-dug home, the largest concentration of troglodyte caves in France houses an amazing range of tourist attractions.
Sensational discoveries
Surprisingly, troglodyte sites are found in both the cliffs and the plains of Anjou.
Near Doué-la-Fontaine, the ancient village of Rochemenier takes you into another world, with farm equipment, furnished rooms, some real animals, and even photos of the last farmers!
For a change of scene, visit the Bioparc in Doué. Exemplary animal habitats are landscaped into the hewn out rock. You won't pity these zoo inhabitants!
At the Caves Cathédrales des Perrières, you can marvel at the hollow immensity. Discover a magical design : the 'Mystère des faluns'. Between science and poetry, let yourself be captivated by the site and its history. Other curiosities include the Cave aux Sculptures with its 16th century statues carved into the tufa limestone and, by the Loire west of Saumur, Pierre et Lumière with a series of minutely accurate scaled-down monuments.
Book now
Troglodyte gites & hotels
A stunning trip underground
The village metiers d'art at Turquant is a very modern commitment to cave-life in Anjou. A variety of artists and craftsmen and women work in studios belowground here. With ceramics, sculpture, jewellery, glass-blowing and more, the list of skills is long!
In Richard Rak's gallery at Coutures, south-east of Angers, subterranean shadow and light both inspire and enhance artistic creation. The Helice Terrestre a few miles away adds the acoustic dimension to underground art. For a complete experience, why not treat the family to an unusual break in a troglodyte B&B or gîte and some fun candlelit dining? You'll have a fabulous time savouring traditional specialities - all washed down with local wines matured in troglodyte cellars!