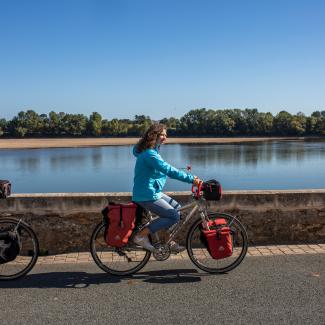 La Loire à Vélo , D. Darrault©
Loire Valley cycling breaks
Cycling is one of the best ways to explore Anjou's picturesque scenery and the rich heritage of the Loire Valley. For cyclists seeking the calm and energy that France's famous river offers, the Loire à Vélo trail is an absolute must.
Soak up the riverside atmosphere
The Loire à Vélo isn't just a bicycle path—it's a complete holiday. You'll find all you need along the way. There are specially designed picnic areas and over a hundred places to stay: hotels, guesthouses, campsites and group accommodation. You'll be sure to get a warm welcome and high standards thanks to the Accueil Vélo (Cyclists' Welcome) label, which also applies to the cycle rental companies located along the route.
Hop on your bike, sleep in one town, lunch in another, and above all, take your time. Whether you're riding solo or with family or friends, the 200km of cycling trails alongside the Loire—from Montsoreau in the east to Champtoceaux in the west—are sure to fulfill your desire for fresh air and open spaces.
Enjoy the many panoramic views of this UNESCO World Heritage river. Have a break at the abbey church in Saint-Florent-le-Vieil, which offers one of the most spectacular views of the valley.Then take to the water in Montjean-sur-Loire or Le Thoureil for a cruise in a traditional wooden fishing boat.
Go wine tasting and sightseeing around Saumur, visit the Abbaye de Fontevraud, and coast through the verdant countryside around Angers. You'll marvel at the views of the Loire in western Anjou where the river is at its wildest.