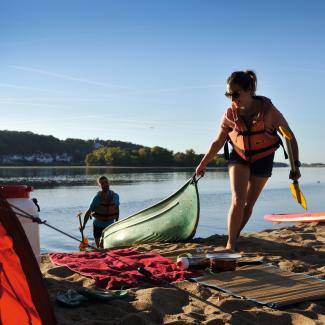 Nautical activities in Anjou
©P. Beltrami , Canoës d'Anjou
With the largest network of navigable rivers in France, Anjou Loire Valley offers boat lovers an awe-inspiring range of things to do! Cruise in style on a gastronomic river tour, hire a houseboat, or paddle softly round bird sanctuaries on the Loire.
Fishing, sightseeing, or just messing about in boats!
Traditional wooden Loire river boats still sail in Anjou, and invite you aboard! For an unforgettable excursion, learn the ropes with a fisherman and camp on a river island... More modern craft on the Loire offer guided tours too.
Or you can explore Anjou's rich network of rivers unguided, in a canoe or kayak. The freedom of a houseboat is ideal for a leisurely appreciation of quaint villages and riverside mansions on the Sarthe, the Maine, the Oudon and the Mayenne. You don't even need a permit to hire one!
Watersport enthusiasts can also go sailing, windsurfing, canoeing and kayaking on Anger's Lac de Maine or Cholet's Lac Ribou.