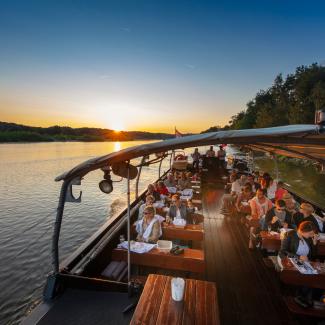 Cruising in the Loire Valley
Suivez le guide
©D. Darrault , Saumur Loire Cruise
Hop aboard and see Anjou from another angle. Relax and go with the flow as you contemplate the peaceful parade of wooded hillsides, manor houses, and pretty villages that pass by. Enjoy a day trip with friends or why not take the family for a break and get away from it all on a houseboat.
Do whatever floats your boat!
Hire a houseboat in Anjou to explore the large network of waterways on the Maine, Sarthe, Mayenne and Oudon rivers, which converge near Angers. You don't need a license to take the helm. Here, the waters are calm and you'll mosey along at a leisurely speed, stopping off wherever and whenever you please.
You can visit a château, the national stud farm in Angers, sample some Anjou wines, or simply cycle along the towpath. On a houseboat holiday, whatever you do, you get to do it at your own pace.
See why the Loire river has UNESCO World Heritage status as you watch the world go by from the deck of Rêves de Loire et d'Ailleurs. Aboard this the traditional wooden boat, you'll learn all about riverside life with expert commentary from a local enthusiast.
You could take the sunset cruise for a romantic outing and a superb photo opportunity. For a more adventurous trip, you could try a traditional sailing or fishing lesson, go island hopping, or combine a cruise with a hike or bicycle ride.