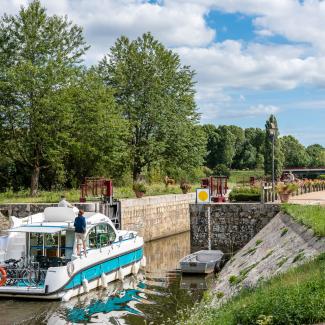 Houseboat tours in Anjou Loire Valley
How better to explore the glories of Anjou than aboard a houseboat! The largest network of naturally navigable waters in France offers you a delightful opportunity to tour Anjou Loire Valley. A wonderfully relaxing way to see its exceptional heritage.
Going with the flow on the rivers of Anjou
Whether alone, on a romantic break or with family, let the rivers pace you through Anjou's rich heritage! A tributary of the Loire, the river Maine is created by the merging of navigable waters, including the Sarthe, the Mayenne, and the Oudon.
The Sarthe, bubbling with fish, is a peaceful haunt for fishermen. The river Oudon winds quietly through unspoilt landscapes, while picturesque villages await on all the rivers. Carved through schist hills and bordered by a tow-path, the Mayenne is great for walks or cycling.
Why not rest your sea legs and hop off to visit the major stud farm at Le Lion d'Angers? Then cruise on to the Maine for an incomparable view of the majestic fortified castle of Angers overlooking the river!
Easy navigation aboard a floating home
No need to be an expert to venture through these waterways, conveniently equipped with landing stages and manned locks. Nor will you have to compromise on comfort.
With a choice from 2 to 12 berths, you'll have separate cabins plus the common facilities of a home on dry land. Up to you whether you fill the captain's table with Anjou produce and wines, or explore town and country for gastronomic restaurants! The boat companies Anjou Navigation and Maine Anjou Rivières will help you choose your vessel.
Houseboats can be hired at Chenillé-Changé or Grez-Neuville on the Mayenne. You can also set out from Châteauneuf-sur-Sarthe or Angers. Then forget the clock, moor where you like, and enjoy your freedom!