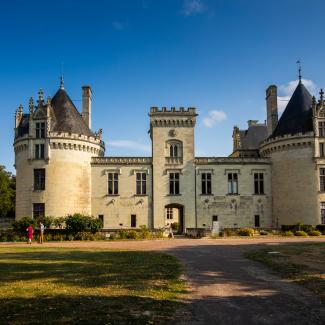 Castles & Heritage
Suivez le guide
©D. Darrault , Château de Brézé
There are hundreds of churches, abbeys, french castles and chateaux to admire in Anjou Loire Valley, and some sights you won't find anywhere else in France. This rich cultural heritage has links with two very famous names – Plantagenet and Shakespeare!
French Castles and heritage in Anjou Loire Valley
In a region crammed with monuments, why is Anjou special? For one thing, most of its châteaux are lived-in. Serrant, Brissac, Montgeoffroy, Le Plessis-Bourré and Montreuil-Bellay, to name a few, are real homes filled with ancestral treasures.
Among other remarkable features are Europe's largest underground castle at Brézé, and the world's longest medieval tapestry housed in the chateau d'Angers - the Loire Valley's largest fortress!
Religious marvels include the fine Romanesque priory at Cunault and intriguing twisted spires around Baugé. Fontevraud – France's largest monastic city – still displays recumbent effigies of King Henry II and his son, Richard the Lionheart!
To discover which Anjou lady was "England's happiness", check your Shakespeare!