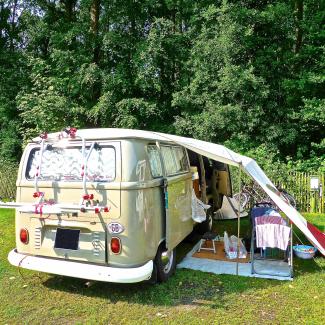 Motorhome service area in Anjou
©Pixabay , Camping combi rétro
In Anjou and throughout the Loire Valley, motorhome and campervan enthusiasts are made very welcome, with more stopover points than practically anywhere else in France. Enjoy a well-deserved break in pleasant surroundings.
Anjou welcomes camper vans with open arms
There are about 60 public stopovers especially for motorhomes, 30 campsites with designated areas and a plethora of wine-growing estates with all the necessary amenities for your comfort.
Take advantage of their high-quality services and particularly picturesque surroundings. Of course, it goes without saying that our stopover points are close to Anjou's many tourist attractions.
In Anjou, you get the services…and the scenery
You'll find stopover points and campsites throughout Anjou Loire Valley, with plenty of choice along the river Loire and in the vineyards.
Visit the troglodyte village of Turquant, the particularly motorhome-friendly wine-growing village of Le Puy-Notre-Dame and of course, Bouchemaine, which, as its name suggests, stands at the confluence of the rivers Maine and Loire near Angers. These villages, the first equipped, are well known in motorhome circles for their excellent services. Many towns invest the same to combine nice environment and high quality welcome.