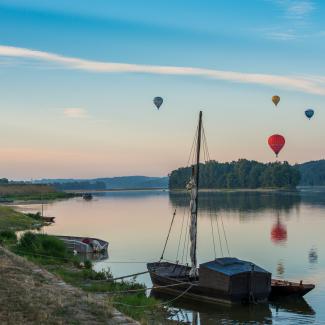 ©D. Darrault , La Ménitré
From a hot-air balloon, microlight or glider, you'll have the best view of the spectacular scenery that Anjou Loire Valley has to offer. Ready for takeoff?
Broaden your horizons
Weather conditions permitting, your balloon ride will take place at sunrise or just before sunset.
Climb aboard the gondola at the confluence of the Maine and the Loire, at the château de Brissac or in Gennes and let yourself be transported. From your 1,000 metre-high viewpoint,
the splendour of the Loire Valley unfurls before your eyes.
Depending on your flight, you might see the château de Brissac or Saumur, the majestic river Loire, the leafy slopes of the vineyards,
the isle of Gennes or Fontevraud Abbey. The gems of Anjou are at your feet!
Free as a bird
A hot-air balloon ride is a particularly gentle and soothing way to travel but if you are ready for a more adventurous trip, why not take to the skies in a light or microlight aircraft?
Choose from the passive pleasure of a purely touristic flight or give in to temptation and have a go at flying yourself. Before you board, your instructor will explain the commands and show you how to prepare for your flight.
If you decide on an evening flight, you'll experience the best of Anjou: feast your eyes on the fantastic views and then treat your taste buds to a glass of softly sparkling local Crémant de Loire. Your most precious holiday souvenir will be the memory of the beautiful landscapes from the Loire to the Atlantic coast.