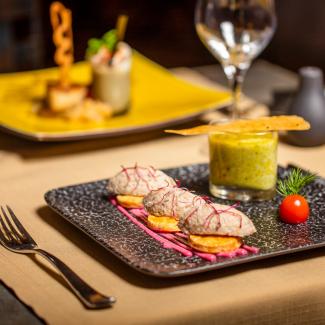 ©D. Darrault , L'Hélianthe
The area is very popular for its wonderful cuisine, where numerous restaurants will delight your palate in exquisite ways.
Anjou's gastronomic trip into rivers and caves
Down on the banks of the Loire, it's fun to seek out guinguettes, informal restaurants on the river's edge, which serve up friture (small fried fish) and often put on dances on summer evenings, perhaps to the traditional sound of accordeon music. Fishing is a highly appreciated pastime in Anjou, with many people owning a little barque to go out on the waters.
The Angevin caves have been put to many culinary uses. A few troglodyte restaurants in the region serve the old speciality of fouaces, oven-baked dough balls which you open up and fill with a variety of ingredients.
Champignons de Paris (the French for button mushrooms) should really be called champignons d'Anjou, as such a high percentage of the national production comes from the region, especially the caves of the Saumurois. More exotic mushrooms are being cultivated in these underground farms nowadays, and feature on Angevin menus. So does the wide variety of vegetables that thrive on the sandy plain of the Authion valley north of the Loire.
Anjou has been known for centuries for the quality of its fruit, exported across northern Europe. Many of its fine apples and pears end up on supermarket shelves in Britain. In addition, many of the first orchards in the USA and Canada were started from Angevin grafts. Anjou fruit will feature large among puddings in the region. As for Crêmet d'Anjou, this is a lovely light crème fraîche concoction served as a dessert. Amusing sweet specialities include nougat quernons and chocolate blue slates from Angers, plus horse-mad Saumur's chocolate crottins.