CELLARS ACKERMAN
9.1
Excellent
- 823 experiences
Secured payment
100% direct booking
Verified offers
Immediatly confirmed
Description
In 1811 the pioneer of Loire sparkling wines, Jean
Ackerman founded this illustrious house, in the heart
of 7 km of cellars dug into the tuffeau. He introduced
the traditional methods of elaboration for Brut and
Crémant de Loire to the region. Through an original
scenography the tour provides an extraordinary
'Journey to the centre of the bubble.' The route is
punctuated by events, art exhibitions and games for
the whole family. Wines tasting of the emblematic
wines of the cellars. The cellars are fully accessible.
Note: seminar and receptions rooms available.
Infos
Appellations
Anjou Blanc, Anjou Villages, Bonnezeaux, Cabernet d'Anjou, Chinon, Coteaux d'Ancenis, Coteaux de l'Aubance, Coteaux du Layon, Crémant de Loire, Muscadet, Muscadet Coteaux de la Loire, Muscadet Sèvre-et-Maine, Saint Nicolas de Bourgueil, Sancerre, Saumur Blanc, Saumur Brut, Saumur Champigny
Prices
Individual price - no discount5.50€ à 6.50€
Group price3.50ۈ partir de 20 personnes
Opening hours
From 01/10/2023 to 31/12/2023- Ouverture du lundi au samedi de 10h à 12h30 et de 14h à 18h30. Le dimanche de 10h à 12h30 et de 14h30 à 18h30.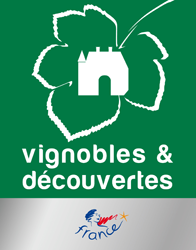 Access
Address
19 rue Léopold Palustre
Saint-Hilaire-Saint-Florent
49400 SAUMUR
updated : 01 août 2023By : SPL SAUMUR VAL DE LOIRE TOURISMESuggest changes.