©Directimagex
©
©
©
©David Darrault
©
©
SAUMUR
Caves touristiques
In 1811 the pioneer of Loire sparkling wines, Jean Ackerman founded this illustrious house, in the heart of 7 km of cellars dug into the tuffeau. He introduced the traditional methods of elaboration for Brut and Crémant de Loire to the region. Through an original scenography the tour provides an extraordinary 'Journey to the centre of the bubble.' The route is punctuated by events, art exhibitions and games for the whole family. Wines tasting of the emblematic wines of the cellars. The cellars are fully accessible. Note: seminar and receptions rooms available.
Why book here ?
Secured
payment
100% direct
booking
Verified
offers
Immediatly
confirmed
Best
price
Practical informations
Appellations
Anjou Blanc, Anjou Villages, Bonnezeaux, Cabernet d'Anjou, Chinon, Coteaux d'Ancenis, Coteaux de l'Aubance, Coteaux du Layon, Crémant de Loire, Muscadet, Muscadet Coteaux de la Loire, Muscadet Sèvre-et-Maine, Saint Nicolas de Bourgueil, Sancerre, Saumur Blanc, Saumur Brut, Saumur Champigny
Prices
Individual price - no discountVisite libre et dégustation commentée

Individual price - no discountVisite avec tablette et dégustation commentée

Individual price - no discountVisite guidée et dégustation commentée

Children's priceGratuité pour les enfants de moins de 14 ans

Group priceVisite guidée sur réservation
Payement
Credit card
Cheques and postal orders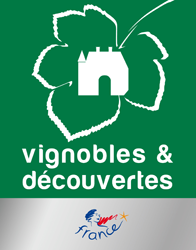 Location
19, rue Léopold Palustre
Saint-Hilaire Saint-Florent
49400 SAUMUR
Latitude : 47.271690 - Longitude : -0.106870
You will also like...
2.9 km away
2.4 km away