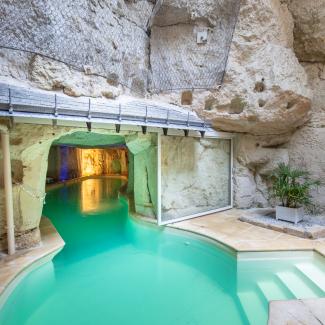 Stay in a troglodyte gîte
©D. Darrault , Demeure de la Vignole
Nowadays, living in a cave is all about being at one with nature, with all the modern comforts to hand. The chalky-white stone makes a spectacular décor for bed and breakfasts, self-catering apartments and hotels. Accommodation in Anjou is anything but ordinary!
Centuries-old stone meets contemporary style
Troglodyte accommodation can be found on the rocky hillsides along the Loire or on the broad plains that stretch beyond Doué-la-Fontaine and Saumur.
In the last 30 years, many enthusiasts have refurbished troglodyte dwellings and fitted them with up-to-date amenities. The result is surprising new underground accommodation that is as unusual as it is inviting.
In Anjou, you don't just visit our heritage, you get to sleep in it!
Nature at its best
Try the troglodyte lifestyle and sample some of life's simplest, most beautiful pleasures.
Among the accommodation on offer is the 4-star hotel and residence, the Demeure de la Vignole, which even has a swimming pool carved out of the rock into the hill along the Loire, or the delightful La Troglo 6-person gite with its superb sundeck dug in the plain direct in centre town of Doué-la-Fontaine.
Book now
Troglodyte gites & hotels
Dine somewhere different
Several restaurants also have the rock face as a backdrop. Many have bread ovens to cook fouées, a delicious local specialty.
And for a celebratory evening, what could be more romantic than to dine in the cool, calm intimacy of a candlelit cave?