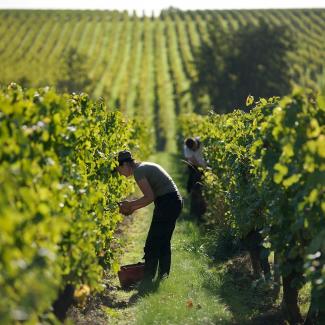 Anjou Loire Valley wines and vineyards
Suivez le guide
©JS. Evrard , Champ-sur-Layon
If exploring vineyards floats your fancy, you'll be interested to know that Anjou has the widest range of wines in the Loire Valley area. And there's no compromise on quality! With 32 Appellations of Controlled Origin (AOC), Anjou is famous for its excellent production. Discover the 3rd-largest winemaking region in France, boasting 21,400 hectares of wines.
A wine for every palate
The mild microclimate of the Loire Valley and diverse soils varying from schist to limestone make Anjou ideal for vine cultivation. In fact, production boomed when the Plantagenet King Henry II of England began serving Anjou wines at his court.
In the lush Layon and Aubance valleys, vineyards stretch to the horizon. Morning mists and sunny days are perfect for the sweet Coteaux du Layon wines. Near Angers just north of the Loire, delightful Savennières is famous for its dry whites.
Continuing southeast to Saumur, you can enjoy the entire palette of wine. The white wines are predominately made with Chenin Blanc while the reds and rosés come from Cabernet Franc. And with a lengthy second fermentation in the bottle, the traditional method sparkling wines are well worth savouring!
In Anjou, 6 routes ranging between 51 and 90 km traverse majestic vineyards and pretty villages. Each of these itineraries has a different character. Uninterrupted views of the Loire River, visits to troglodyte caves, or photo opportunities at Château de Brissac. These journeys are full of wonderful discoveries and great flavours and tastes. What's more, these loops can be taken on foot, by bike, or by car!
Book now
Vineyard guesthouses