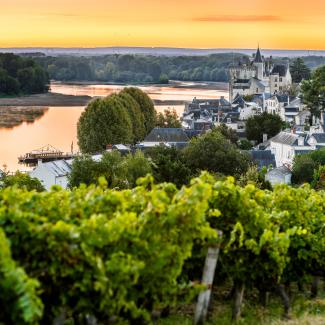 At the heart of the most beautiful villages in Anjou
Stroll through the most beautiful and charming villages of the Val de Loire, where you can wander and savour every moment. Anjou certainly offers some wonderful spots for visitors to discover!
Wandering around the charming villages
Aubigné-sur-Layon, Le Puy Notre-Dame, Cornille-les-Caves, Le Coudray-Macouard ... are some of the charming villages that are particularly pleasant to discover on foot! On foot, by bike, on horseback or by car, let time pass you by and immerse yourself in the gentle Angevin lifestyle. Located in the vineyard, this circuit can include domain visits in which the winemakers open their doors and welcome you inside for pleasant tastings and discussions that you will remember for a long time.
The pretty villages, castles, windmills, troglodyte houses and charming hills and vineyards, are a significant part of the majestic landscapes of Anjou. Images that are fit for picture postcards! Don't miss out on a visit to the village of Montsoreau, built around its castle between the Loire and the hills, and ranked among the most beautiful villages in France! Discovering Montsoreau means walking along flower-lined paths that lead to the vines, admiring tufa mansions and carefully maintained gardens, and strolling in tiny streets with a view over the Loire.
"Petites Cités de Caractère", "Villages de Charme"... Watch for these signs, as they'll point you in the direction of enjoyable walks around the gorgeous villages of Anjou.