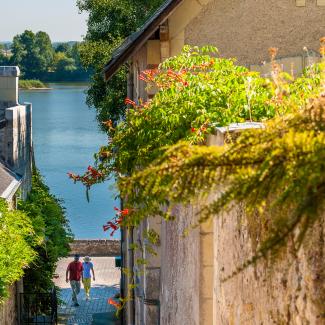 Walking in the Loire Valley
©S. Gaudard , Le Thoureil
The many hiking trails in Anjou Loire Valley cover an immense variety of landscapes, from wooded hills to the banks of the Loire and its many tributaries. You'll never be short of things to see and you'll find walking routes to suit all, from long hikes to leisurely strolls.
Long-distance hiking routes in Anjou
The GR3 long-distance hiking route follows the Loire through Anjou from its source to the estuary, winding its way past the Loire Valley châteaux. Take either the vineyard branch through the wine-growing areas or the historical route which traces the history of barge transport and river ports.
Nature lovers are sure to enjoy the GRP des Basses Vallées Angevines. This trail meanders through the Natura 2000 wildlife reserve.
The rivers Mayenne, Sarthe, Oudon and Loir irrigate the area and walkers can catch a glimpse of riverside life at the locks, mills, ports and dykes. Your walk begins or ends in the charming historical quarter of Angers, where a visit to the castle to see the Apocalypse tapestry or a rest on the banks of the Maine would be a fitting reward for your hiking efforts.
The Plantagenet Way
The St James' Way, which goes from Mont-Saint-Michel to Northern Spain, crosses Anjou from north-west to south-east. Anjou, ancestral home of the Plantagenet dynasty, has seen many a pilgrim on his way to Santiago de Compostella.
The Plantagenet Way follows the itinerary used since the Middle Ages, going through Segré, Angers, near the inhabited caves of Doué-la-Fontaine and the charming village of Le Puy-Notre-Dame and its collegiate church tucked away among the vines. The well-marked trails offer a variety of landscapes such as can only be seen in the Loire Valley. You'll find plenty of places to stay along the way, so accommodation won't be a worry. You can just concentrate on enjoying Anjou.