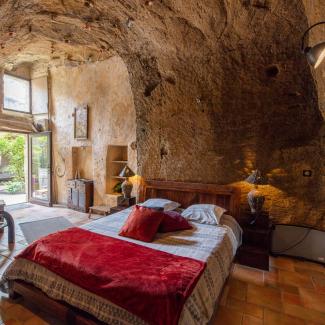 ©D. Darrault , Loire valley guesthouse
Deep in the vineyards, in town, in the privacy of lush gardens, or even underground! Bed and breakfast accommodation in Anjou is as varied as the Loire Valley heritage waiting to be discovered. You can also count on a very warm welcome.
Truly memorable holiday accommodation
When the ambiance is as friendly as the setting is enticing, you may be tempted to keep your B&B finds up your sleeve… No need, though, with so much choice. Many of Anjou's finest châteaux open their doors to overnight guests, and plenty of other characterful abodes do too – always with enthusiasm.
Vineyards offer a particularly fine backdrop to some of Anjou's most enjoyable architectural splendour. Each B&B offer is unique, and ideally located for your exploration of Anjou's natural and cultural heritage. Your hosts are ready with expert advice, and probably share your interests, in wine, walking, fishing, gardening, painting, golf… And you may well share their passion for cuisine at the dinner table, in addition to your copious breakfast.