© G. Angibaud
© Bouvet Ladubay
©Gérald ANGIBAUD
© V.Guillebault
© V.Guillebault
© Bouvet Ladubay
© Marion Gambin
© Bouvet Ladubay
© Anja Prestel
© Bouvet Ladubay
SAUMUR
Caves touristiques
Etienne Bouvet created the house of Bouvet Ladubay in 1851, by associating his brand with the name of his wife. At the end of the 19th century its success was extraordinary, so much so that it became the largest producer of sparkling wines in the world. Through the 8 km of cellars, visitors are shown all the stages of winemaking in an exceptional setting. The Bouvet Ladubay house also boasts steel and glass architecture, a small theatre and a 'sunken cathedral', carved into the rock. The carriage room makes a fine degustation area. Note: Contemporary Art Centre, seminar and receptions rooms available.
Practical informations
Appellations
Bourgueil, Chinon, Coteaux du Layon, Crémant de Loire, Saumur Blanc, Saumur Brut, Saumur Champigny, Saumur Rosé, Saumur Rouge, Touraine
Prices
Individual price - no discountVisite des Caves Classique et dégustation6€

Children's priceGratuité moins de 14 ans4€

Group priceA partir de 12 personnes4€
Payement
Credit card
Cheques and postal orders
Opening hours
From

02/01/2022

to

31/12/2022

Monday 10:00 - 18:00

Tuesday 10:00 - 18:00

Wednesday 10:00 - 18:00

Thursday 10:00 - 18:00

Friday 10:00 - 18:00

Saturday 10:00 - 18:00

Sunday 10:00 - 18:00


- 24/12 et 31/12 : fermeture à 17h Dernière visite à 16h30. Réservation conseillée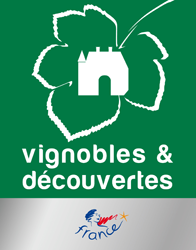 Location
11 rue Jean Ackerman
Saint-Hilaire-Saint-Florent
49400 SAUMUR
Latitude : 47.266998 - Longitude : -0.102880
You will also like...