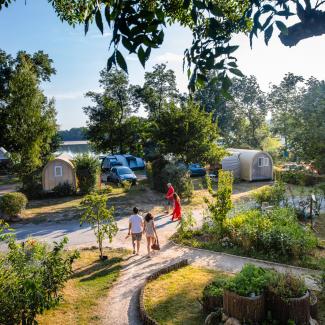 Camping Isle verte , D. Darrault©
Camping & Caravanning
Camping and caravanning let you plunge into the natural beauty of Anjou Loire Valley.
See sunrise over the Loire, hear chattering flocks look for their nests at dusk… only a stone's throw from the cultural treasures of this UNESCO world heritage site.
Calling all nature lovers!
The Loire Valley is renowned for its phenomenal natural beauty, as well as its rich historical and cultural heritage. Nowhere will you appreciate this better than from your campervan, tent or even tree hut in the great outdoors!
Anjou has a rich variety of terrains, including areas of vineyards, woodland, marshland, farmland, schist, tufa limestone… rolling hills, flower meadows, lakes, and lots of rivers.
Anjou campsites and caravan parks, dotted generously across the region, all have one thing in common – modern facilities to ensure comfort and convenience. Many are deliberately located near heritage sites you'll want to explore. And to help you get around, the genius Vel'abri secures shelter for your bicycle.