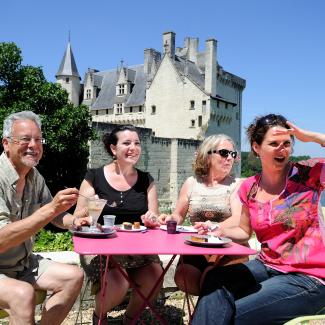 Chateaux in the Loire Valley
Suivez le guide
©JS. Evrard , Château de Montsoreau
Anjou Loire Valley castles are more than monuments! Mostly inhabited, the major ones come alive by day or night in vibrant cultural events. On or off the beaten track, the staggering amount of châteaux—1200 both large and small—reveal Anjou's architectural splendor.
Angers and Saumur—Kings Among Castles
Some of the châteaux that glorify Anjou are literally unmissable! Bordering the Loire, the Château de Saumur dominates "La Blanche" – Saumur's nickname due to its white tuffeau stone buildings. Beautifully illuminated at night, the thousand-year-old château today hosts an amazing sound and light show where you can discover the Dukes of Anjou. Going east, you can see the Château de Montsoreau towering majestically over the river.
For a panoramic view over Angers, capital of Anjou, take a walk along the ramparts of France's largest fortified castle. The amazing medieval Tenture de l'Apocalypse tapestry housed inside is longer than a football pitch!
Beginning with the Plantagenets, British connections abound in Anjou Loire Valley. The still-inhabited Château de Serrant was once owned by the Walsh's, a family of Irish origin,who supported the exiled King James II of England. Follow in more recent royal footsteps as you visit other castles that the late Queen Mother adored! Château de Montgeoffroy and France's tallest castle, Château de Brissac, boast splendid interiors, as does Château de Montreuil-Bellay.
For a delightful taste of French culture, try Château du Plessis-Macé's vibrant open-air theatre - a wonderful spectacle to enjoy under a starlit sky. You may recognise the striking Château du Plessis-Bourré from famous films. Château de Brezé has the deepest dry moat anywhere in France—here, you can unearth the largest subterranean castle in Europe.
After your exciting day exploring, why not book a château hotel for the night?
Book now
Châteaux experiences