CHÂTEAU DE MONTSOREAU - MUSEUM OF CONTEMPORARY ART
6.1
Moyen
- 190 experiences
Description
The only Loire Valley Château built in the river bed, built in 1450 by Jean II de Chambes, adviser to King Charles VII. Converted into a modern art museum, inaugurated in April 2016 - a tour is provided through the permanent collection of Art & Language works in this new venue.
Infos
Prices
Full adult price11€
Children's price7€(5 - 18 ans)
Price for large families28.10€
Opening hours
From 01/10/2023 to 31/12/2023- Ouverture tous les jours de 12h à 18h.- Fermeture exceptionnelle le 25 décembre.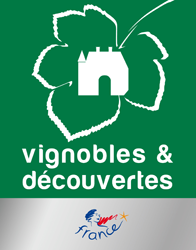 Access
Address
Passage du Marquis de Geoffre
49730 MONTSOREAU
Nearby
Motorway : A85 - sortie n° 5 (Bourgueil) (12km)
SNCF train station : Saumur (13km)
updated : 26 mai 2023By : SPL SAUMUR VAL DE LOIRE TOURISMESuggest changes.