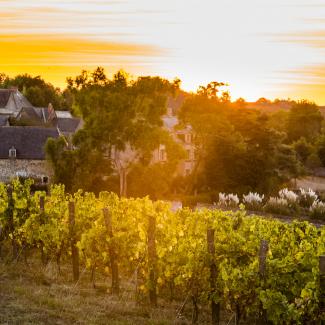 ©S. Gaudard , Vineyard guesthouses
Explore the slopes and vales around Angers and Saumur and become an expert on Anjou wines. Many vineyards offer guided tours and tasting sessions during which the vigneron shares some wine-making secrets. At the end of the day, you can even stay over!
Grape escapes
The array of vineyard accommodation in Anjou is particularly varied. On the outskirts of the village of St-Lambert-du-Lattay lies the Château Soucherie estate. Each of its four exquisitely decorated rooms has a view of the vineyard. Guests have access to a lounge and a kitchen and are treated to a private wine tasting. You even have the option of hiring a classic car for the day.
Get a feel for typical Loire Valley lifestyle at the Ami Chenin Bed & Breakfast in Saumur. This 18th century home is partially carved out of the rock and the cellar is well stocked with Loire valley wines. At the Manoir de la Tête Rouge, in the must-see village of Le Puy-Notre-Dame, the wines are organically produced while at the Château de Cheman in Blaison-Gohier, you can hire a Solex powered bicycle – a nostalgic and very ecological way to explore your leafy surroundings.
Wining…and dining
Several estates have top-class restaurants on site, where you can indulge in flavourful, expertly prepared dishes. At the Table de la Bergerie in Champ-sur-Layon, the cuisine is traditional, with a contemporary twist. The local produce and wines are carefully chosen to complement each other. A match made in heaven. Next stop, Domaine Saint-Pierre in Chaudefonds-sur-Layon, another family-owned estate with its own restaurant, La Table du Square. The chef carefully selects his ingredients each morning and the dishes are served in a resolutely modern ambience. Diners have fantastic views of the swathes of leafy vines all around. You won't want to leave!