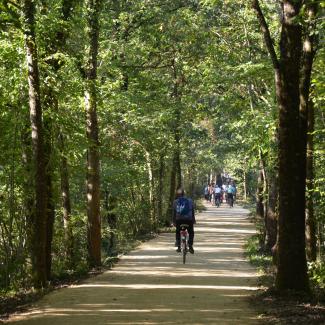 ©OT Baugé-en-Anjou , V44 cycle route
V44 cycle route, (Alençon / La Flèche / Saumur)
From La Flèche, on the shores of the Loire, you will dive into a green and peaceful universe.
Travel through time from one village to another
There, you will find many charming and typical villages to visit. Enjoy the natural landscape in between, not forgetting the mansions and old dwellings that are dotted round the area, as well as the cultural sites. Through the forest, you will first head for Baugé-en-Anjou where you can admire its castle, former hunting lodge of King René, and its amazing old Apothecary. After the village of Cuon, you enter the Loire-Anjou-Touraine Regional Nature Park. In Longué-Jumelles, don't miss the amazing Hydronef: an old watermill that has been converted into a "hydro time machine"!
The Loire-Authion valley : if you head down south towards the river, you will find a cultivated landscape. After a stroll in the city of Longué and a break near the recreational bodies of water, you will end up in Saumur with the majestic castle as a backdrop, high up on the troglodyte slope. A view that never fails to impress. Elegant city of art and history, renowned for its vineyards, its National School of Riding, and its castle overlooking the Royal River, Saumur is a true jewel of the area.