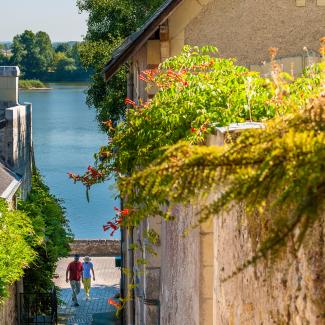 Great Hikes (GR®) in Anjou
©S. Gaudard , Le Thoureil
This official hiking trail of the country will take you on a beautiful journey.
Walk along the longest hiking track in the area
The long-distance hiking trails (GR®) reveal the great variety of Angevin landscapes. Starting with the famous GR3® that follows the Loire from its source, it offers a perfect opportunity to enjoy the beauty of the surroundings with friends or family, at your own pace.
Following the Loire from its source to its estuary, the GR3®, the first Great hiking track in France, crosses 4 regions and 12 departments over more than 1300 km. In Anjou, it follows the left bank of the river for about 183 km. At the water's edge, the route continues over a corniche and through the vineyards, crossing over all the Loire territories. It then carries on towards the west, retracing the history of the inland waterways and the river ports.
The route connects the Portes de l'Anjou, in the north, to the Loire in Rochefort-sur-Loire for 62 km. The path runs along the Loir and its reed beds and then branches off to magnificent forest and wooded estates, ending in the exceptional territory of the Angevin Valleys.