RESTAURANT LA TABLE DU MEUNIER
Description
Restaurant offering traditional and refined Anjou cuisine in a former oil mill in Chenillé-Changé, a "Village de Charme" between Angers and Laval. An authentic décor with six dining rooms, including a terrace with a panoramic view of the Mayenne River.
Infos
Services
Take away
Terrace
Wifi access
Capacity
Nombre de couverts 196
Prices
Adult menu (lunch on workdays)24€ à 34€
Opening hours Currently closed
From 17/02/2024 to 25/12/2024- Ouvert du jeudi au lundi, selon planning et sur réservation au préalable.- Fermé le mardi et mercredi.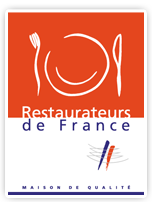 Access
Address
Le Pin
Chenillé-Changé
49220 CHENILLE-CHAMPTEUSSE
updated : 08 décembre 2023By : Office de tourisme Anjou bleuSuggest changes.