GUINGUETTE DE PORT THIBAULT
SAINTE-GEMMES-SUR-LOIRE
Restauration
Superbly located on the banks of the Loire, this former boatman's house dating from the 19th century was transformed into a café in 1910. This closed in 1960 and the venue had been unoccupied ever since – until recently re-opening in July 2019. The new owners wanted to bring this landmark well-known with walkers back to life and restore its full charm. They worked passionately with local experts and craftsmen, ensuring the renovation was in keeping with the regional architectural codes, with support and advice from the French architectural review board (Bâtiments de France). With its indoor and outdoor spaces, Guinguette de Port-Thibault welcomes you all year round, for business or laid-back lunches, evening meals with family or friends or simply for drinks and light bites at any time of the day. Standing beneath two majestic cedar trees, both the café and the terrace boast a stunning view over this typical Loire river landscape. In the kitchen, chef Jean-Baptiste Audureau and second chef Franck Corbin concoct a menu featuring fresh, local and exclusively homemade dishes that change with the seasons. Philippe is in charge of the bar, while Marie, Simon and Olivier serve you at your table. To stay up to date with all of the guingette's news and musical events, go to their website http://guinguettedeportthibault.fr/. The guinguette is open every day, except Wednesdays, from 11 am to 00.30 am. Food served from noon to 2 pm and from 7 pm to 10 pm.
Practical informations
Payement
Credit card
Cheques and postal orders
Holiday vouchers
Opening hours
From

01/01/2020

to

31/12/2020

Monday 12:00 - 14:00

Tuesday 12:00 - 14:00

Wednesday -

Thursday 12:00 - 14:00

Friday 12:00 - , 19:30 -

Saturday 12:00 - , 19:30 -

Sunday 12:00 - 14:00
Weather SAINTE-GEMMES-SUR-LOIRE 4 days
Location
57 route de Port Thibault
49130 SAINTE-GEMMES-SUR-LOIRE
Latitude : 47.417858 - Longitude : -0.582820
You will also like...
5.8 km away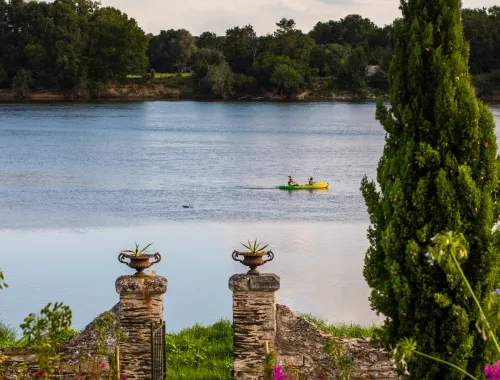 4.6 km away