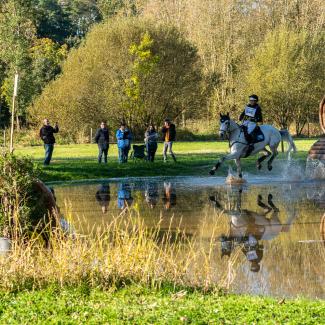 ©S. Gaudard , Mondial du Lion
At a magnificent winery, witness this notable, international horse-riding competition. An autumnal event that you won't want to miss!
Sport & elegance
The Mondial du Lion is a must-see event that is open to all. This world-scale equestrian competition is a Concours Complet D'Équitation, where the riders face off in dressage, cross-country, and obstacle-jump events.
The Mondial owes its esteemed reputation also to its venue: the superb, 162-hectare park—the Parc Dèpartmental de l'Isle Briand.
Isle Briand is also home to Haras National du Lion d'Angers, which houses purebreds, French Trotters, and other stallions from private stables. A true place for champions that is rooted in tradition.
Keeper of the French equestrian tradition, Anjou is a region known for breeding, dressage, horseracing, and competitions. Its equine history began in the 15th century, when kings and their horses made the region their kingdom. In the 17th century, the vocation asserted itself with the installation of the cavalry school in Saumur by royal decree. Today, the Ecole Nationale d'Equitation within the Institut Français du Cheval and Equitation, trains riders, horses, and senior executives in both French and international equitation.
More information: mondialdulion.com