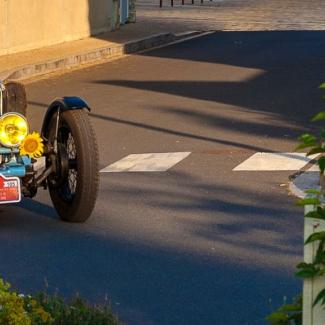 ©S. Gaudard , Grand Prix Rétro
Grand Prix Rétro
At the heart of the winemaking village Le Puy-Notre-Dame, in Anjou, cheer on a race of classic sidecars and pre-war racing cars and motorbikes.
Ready, go!
Do you hear engines revving and see drivers competing in good humour? During the weekend, a rally and a time trial draws pre-war racing cars and motorbikes, as well as sidecars built before the 1950s. With these old-timey vehicles, the speeds might be limited but the pleasure is heightened.
Roll out the mechanics in Le Puy-Notre-Dame! Over 160 vehicles parade through the village's streets: Bugatti, Fiat, Amilcar, tricyclecars, sidecars, and motorbikes. At the centre of the route, the paddock allows spectators to admire the vehicles in between races, the Bourse d'Echanges (swap meet) and the Village des Clubs host conversations between fervent fans, and the Grand Prix boutique lets you leave with a retro-style souvenir and many memories in your head.
The Grand Prix Rétro is a must for car enthusiasts! There's on-site dining plus parking is free at the village entrances (600m from the race route.) Find a more detailed programme on the website of the Saumur Val de Loire's tourist office.
More information: grandprixretro-puynotredame.com