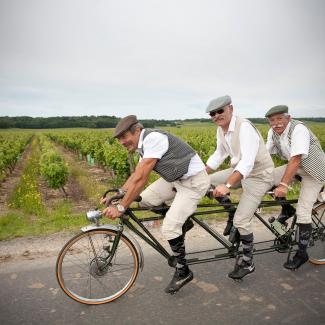 ©B. BECHARD , Anjou Vélo Vintage
Anjou Vélo Vintage
This not-to-miss retro bike ride unites fans of vintage bicycles and those nostalgic for times past to freewheel together. Linking the banks of the Loire with the edge of Saumur, this original outing invites you to discover the rich cultural heritage and wine of the Val de Loire countryside.
Everyone to your vintage bicycles!
Vintage outfits and mounts are a must for this offbeat Sunday bike ride that is equally unique and historic. Five different routes, ranging from 30 to 120 km, guide the Saumurois between the Loire, châteaux, troglodyte caves, and vineyards. These convivial stages encourage "competitors" at all levels.
At the starting line in the heart of the historic town of Saumur, the village and free concerts are 100% vintage. With more than 90 exhibitors, the Village Rétro delights old-timey bicycle collectors and fanatics of vintage fashion and décor. At the Festival, boogie to jazz and swing tunes while sipping the famous Saumur bubbly.

This quirky event gathers more than 45,000 visitors at the village, plus 10,000 race participants come from all four corners of the globe. Those nostalgic for cycling legends, lovers of outings between friends, and fans of great adventures, make your way to Anjou Vélo Vintage!
More information: anjou-velo-vintage.com