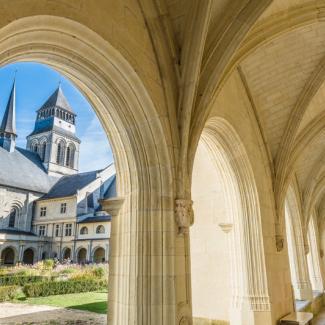 The Abbaye de Fontevraud: A Royal Gem
©S. Gaudard , Fontevraud abbey
An exceptional historic and architectural site founded in the 12th century, the Abbaye Royale de Fontevraud still stands out today as a hot spot for art. Here's a portrait of this picturesque abbey.
Monastic Rigor for Contemporary Art
In 2020, the abbey will transform into a setting for contemporary art with the opening of the Musée d'Art Moderne – endowed by Martine and Léon Cligman, who obtained the "Musée de France" designation. Their engaging, thoughtful collection is revealed in 900 reputable oeuvres, which were passionately collected by the married couple. From spring 2020, paintings, drawings, and sculptures will be on public display at the core of the Fannerie building (the abbey's ancient stables.) The reputation of certain pieces have already piqued the curiosity of art lovers: including a Camille Corot painting, a Toulouse-Lautrec self-portrait, a series of paintings by Eugéne Carrière, a Rodin bust, and Degas sculptures. The 1200 square-metre museum will also welcome temporary exhibits. When fit, it will also use innovative technology to boost interaction.
Visiting the abbey, you'll also discover the great names that made it so notable, like Aliénor d'Aquitaine, queen of France and England. She reigned supreme at Fontevraud, so her effigy lies in the nave next to that of her husband, Henri II Plantagenêt. During your visit, you can admire the purity and grandeur of the architecture and enjoy the cloister's serenity on a stroll without looking at your phone. Savour magnificent flavours in the gastronomic restaurant and spend the night in the hotel within the abbey's walls: the monastic chambers have been transformed into refined designer cocoons.
Practical information
ABBAYE ROYALE DE FONTEVRAUD
Abbaye Royale de Fontevraud
place des plantagenêts
49590 FONTEVRAUD-L'ABBAYE