SAINT-LAURENT-DE-LA-PLAINE
Patrimoine culturel
Museum in the town centre of St Laurent de la Plaine, 20 minutes from Angers and 10 minutes from the Loire. Squares, ancient facades, cobbled streets, discover collections of tools and objects representing over 35 trades over 5000m².
Explore trades, through 12 exhibition rooms composed of tools from the stone crafts, wood, metal, earth, textile and leather collections immerse you in the universe crafts and rural life in the early 20th century. The museum buildings themselves are built in the architectural style of the 18th century with bold frames, a courtyard, paved streets and invite you to a walk in an ancient village of Anjou. The temporary exhibition "Saint Laurent 14-18: its soldiers at the front, the families in the village" showcases the culmination of the work of Local History Research Group of Saint-Laurent-de-la-Plaine. In connection with the commemoration of the centenary of the Great War, the exhibition tells the war and its upheavals through the history of a village and its inhabitants. The exhibition at the museum until 2018. Groups welcome all year on reservation
Practical informations
Prices
Full adult price6€

Discounted rate5€étudiant, personne à mobilité réduite, détenteur de carte donnant droit à une réduction (Cezam, ...)

Children's price4€enfant de 6 à 15 ans. Gratuit pour les moins de 6 ans.

Price for large families16€pour 2 adultes et 2 enfants

Price for subscribers6€Pass Mauges Sur Loire 6€
Payement
Cheques and postal orders
Holiday vouchers
Weather SAINT-LAURENT-DE-LA-PLAINE 4 days
Location
Place de l'église
SAINT-LAURENT-DE-LA-PLAINE
49290 MAUGES-SUR-LOIRE
Latitude : 47.315781 - Longitude : -0.803302
You will also like...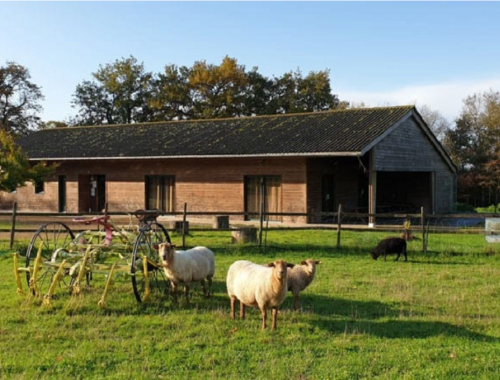 4.8 km away
5.1 km away