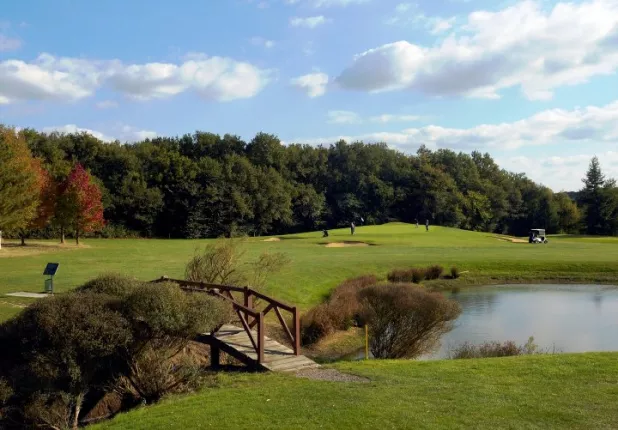 ©
©
©
©
©
©
©
©
©
©
LES HAUTS-D'ANJOU
Equipements de loisirs
In the historic heart of Anjou, between Angers and Le Mans near the Loire Valley, a hundred-acre estate in a natural and preserved context, the ideal place for golf and to combine relaxation and sport.

Protocole
sanitaire
Afin d'assurer les mesures sanitaires établies par la fédération française de Golf, nous mettons tout en place pour votre sécurité : port du masque, mise à disposition du gel hydroalcoolique, distanciation sociale respectée et désinfection du matériel automatique. Réservation préalable par téléphone, par mail ou sur votre espace membre sur le site Internet. Paiement en ligne ou en carte bancaire à l'accueil extérieur. Accès au parcours 6 et 18 trous (limité à 2 ou 4 joueurs à chaque départ). Retrouvez toutes les informations dans la rubrique actualités du site Anjou golf. Lire la suite
Practical informations
Equipement
Bar
Restaurant
Equipped conference room
Toilets
Prices
Basic price adultTARIFS GREENFEES Haute saison : 18 trous 50€, 9 trous 36€ ; Basse saison : 18 trous 36€, 9 trous 26€26€ à 50€
Payement
Credit card
Cheques and postal orders
Opening hours
From

01/01/2021

to

31/12/2021
Weather LES HAUTS-D'ANJOU 4 days
Location
Rue Normandie Niemen
Route de Cheffes, Champigné
49330 LES HAUTS-D'ANJOU
Latitude : 47.642002 - Longitude : -0.553648
You will also like...