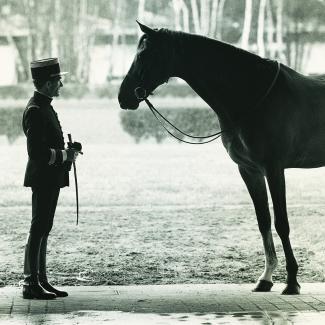 ©A. Laurioux , Cadre noir
The pride of Saumur, the Ecuyers (Riding Masters) of the Cadre Noir are in the spotlight here. They are supported by many staff, who ensure the well-being of the horses at the National School of horse riding.
Where the Horse is King
The Cadre Noir of Saumur owns the National School of horse riding, successor to the prestigious Saumur cavalry. Teachers and top-level athletes, the Cadre noir Ecuyers perform research and documentation activities, and carry on the traditions of French horse riding, which in 2011 was included on the UNESCO intangible heritage list.
The Ecuyers and a team of professionals have a busy schedule taking care of the school's 350 horses: grooms, veterinarians, farriers ... almost 170 people work on the site. Each Ecuyer works for around an hour a day with each of the four to six horses he is responsible for. Several times a week, these exceptional riders practice the routines they perform during galas and shows, with timed steps, jumps and turns…
Training and teaching top level riders, scientific and technical research, national and international competitions, French riding academy: the Cadre Noir continues to maintain the reputation of Saumur, as the capital of horses.