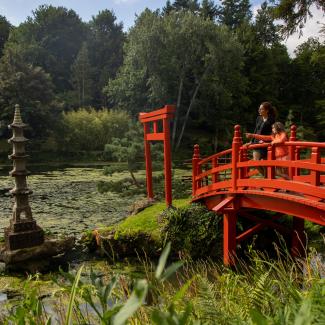 ©M. GENON , Parc Oriental de Maulévrier
The Parc Oriental de Maulévrier, a certified "Jardin Remaquable," invites you to promenade and daydream. Europe's biggest Japanese garden charms nature fans as well as the most experienced gardeners.
Landscapes Between Enchantment and Traditions
Created at the beginning of the 20th century by Alexandre Marcel, an architect known for his passion for the Far East, the Parc Oriental de Maulévrier has regained its beauty after forty years of hibernation. Organised in the classic tradition of Japanese gardens, mixing vegetal, mineral, and aquatic worlds, this sublime place unleashes a sweet harmony and bears witness to a grand aesthetic quest. The lush vegetation hides its marvels well: a river enlivened by little bridges, Khmer statues, Japanese lanterns, and a pagoda.
As Zen and romantic as it is unique, the 29-hectare garden inspires serenity and peace. While the spectacle of colours and shapes are beautiful during the day, they are even more enchanting on summertime nights, when you can marvel at them during special tours.
Another highlight is the huge collection of bamboo species as well as the park's bonsaï. They are the pride of the gardeners, showcased during a dedicated fair each year at the beginning of September. With its copper hues, it is perhaps the best season to discover the park—we'll let you decide.
Practical information
ORIENTAL PARK
Route de Mauléon
49360 MAULEVRIER