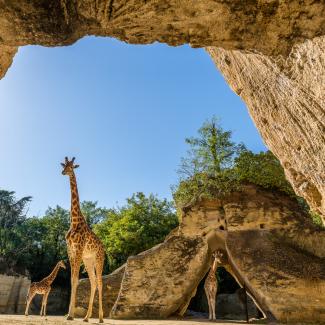 The Bioparc at Doué-la-Fontaine: More Than Just a Zoo!
Welcome to the only troglodyte zoo in the world! A visit here will blow you away, thanks to its unique troglodyte setting and its exceptional animals.
Immersion into the center of continents
Since 1961, the Bioparc has been located at a troglodytic site a few kilometres from Saumur. The limestone quarries offer a natural setting and an ideal "topography" for animal life, while the lush vegetation, terraced layout, and waterfalls plunge you into a wild universe. Bonus: the area stays cool even in the heat of summer. The Bioparc houses a thousand animals belonging to 123 different species and growing—with around 150 births per year! Lazing Sumatran tigers, gibbons flying from tree to tree, or a penguin colony—pass from one environment to the next to discover these species, who are categorised by their level of risk of extinction in the wilds.
The Bioparc's layout also allows you to get up close to the animals. Access the valley of black rhinoceros that are nestled in the rocks, the leopard canyons, and the sanctuary of okapis. Enter the biggest open-sky aviary in Europe—10,000 square metres filled with 600 flying birds.
New in 2020: the Carnivore Crater. These 2 hectares are focused on felines, welcoming a group of cheetahs and flying meerkats between rocky promontories, a stream, and a racecourse. At the centre of the crater, visit the observation hut that offers a 360° view of the quarry, inviting visitors to totally immerse with the animals.
Practical information
BIOPARC
103, rue de Cholet
Doué-la-Fontaine
49700 DOUÉ-EN-ANJOU