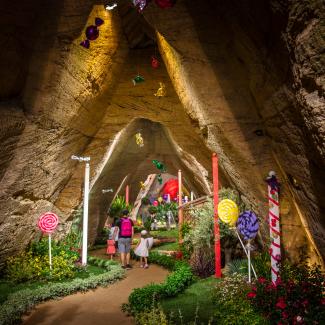 ©D. Darrault , Les Journées de la Rose
Les Journées de la Rose
Each year, roses are revered in remarkable troglodyte caves whose ceilings soar like cathedrals!
The Rose – Queen of the Flowers
Each year, Doué-le-Fontaine blossoms with an exhibition that showcases thousands of roses in a most unusual setting. Sumptuous scenes of roses are installed under the vaulted ceilings of troglodyte caves. There, floral design schools face off over a common theme that changes each year.
Charmed by the colours and intoxicated by the fragrances, attendees are invited to vote among the selected varietals for the most beautiful garden rose. White, red, and pink roses form a rainbow of colours to inspire you when composing your next bouquet—which will surely seduce your better half. To round off the festivities, let your kids play with the wooden games, participate in planting, gardening, and floral art ateliers, and have fun in the vintage area doing karaoke from the 60s.
More information: journeesdelarose.com