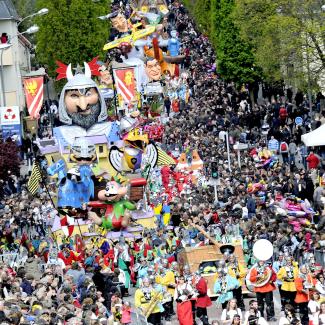 ©JS. Evrard , Carnaval de Cholet
Carnaval de Cholet
Each April, the town of Cholet invites you to party and groove to the beat of its lively carnival. This convivial event is famous for its two grand parades and a week of festivities.
A Century-Old Event That Is As Dynamic As Ever
With its gigantic floats, creative costumes, festive music, and colourful ambiance, the Carnaval de Cholet lives up to its name. Throughout the week, it enchants 80,000 spectators both young and old, from Sunday's opening daytime fanfare to the following Saturday night, when the magical closing parade (unique in France!) lets loose.
The capital of weaving and fashion convenes 150 passionate carnavaliers and 30 bands. Another number that illustrates the magic of this event? There are nearly 300,000 light bulbs that illuminate the floats during the night-time parade! Clowns, animals, and whimsical contraptions create a tiny, dazzling world that in this eclectic, rhythmic parade.
Between the two parades, the town hosts a festive week that is animated by fireworks, a big concert, a fair, a cycling race, and special carnivals for kids and seniors.
More information: cholet.fr/carnaval